Specialist Services
Vehicle Deodourising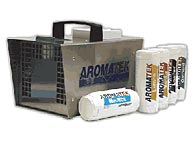 Autovalet uses the Aromatek system which is the proven choice of valeting professionals to permanently remove stale odours from vehicle interiors.
The system uses dry vapours produced from essential natural oils to neutralise and permanently remove malodours such as those produced by tobacco smoke, animals and food.
Unlike conventional air fresheners, the dry vapour intensively produced by the Aromatek system penetrates deep into the porous surfaces within the vehicle firstly neutralising the stale odour and then emitting Aromatek's own fragrance for months to come.
In all cases of deodourising the most important factor is initially to remove the source be this spillage, food or pet hair.
Once the source is removed the vehicle is then deodourised with the Aromatek unit using the Neutrox cartridge. This cartridge is made up of over 32 natural essential oils designed to chemically neutralise and permanently remove odours including those trapped within upholstery, carpets and headlinings.
Once complete the vehicle interior can be optionally refreshed using a fragrance cartridge again applied by the Aromatek system. These are available in either Orange, Vanilla or Leather scent.
Paint & Upholstery Protection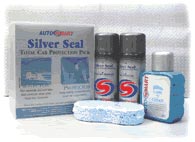 Autovalet currently supplies Autosmart Silver Seal Protection as a protectant for the exterior paintwork and interior upholstery of your vehicle.
We have tried numerous other products which are marketed and priced more on the complimentary cloth and bottle of car shampoo in a presentation case than on the actual quality of the product applied to the vehicle.
We feel that in terms of both quality and value for money the Silver Seal Protection System is the best product available at this time.
Exterior Protection: A second skin for your car's paintwork
A specially formulated product is applied to the exterior paintwork of the vehicle, this provides an invisible watertight seal which is impenetrable to the elements.
This invisible second skin protects paint from rain, sun, ice and snow and leaves both a deeper shine and a long lasting water bead effect on your paintwork.
Interior Protection: Long lasting protection for your upholstery
A chemical treatment is applied to the upholstery and carpets of your vehicle, this is absorbed into the fibres of the material and the protectant dries to form a waterproof barrier to prevent moisture entering the fibres.
Spills such as coffee and tea bead off the material instead of being absorbed and are therefore simple to clean up leaving no stains.
Silver seal protection is guaranteed for between 1 and 5 years depending on the age and mileage of your vehicle and is fully transferable to the next owner of your car.
We can supply Silver Seal Protection on its own or as part of any of our valets.